[thanks to Kai for pic]
VEX FROM SUPER CR3W CAME TO CHATZY! FINALLY! x] Hahahha. He came by to talk to JabbaFamx3OG for the first time, before he left for the ABDC Live tour. What an AMAZING guy. Alot of people said he was like a mini Joe Larot ;p HEHE, it's TRUE! Vex is adorable ;]

WARNING: this is not the ENTIRE convo, just snips of it ;]
kay x3OG: how are you?
v3x: im good just trying to get things done before i leave
v3x: and I wanted to make sure I came in here before i left for tour
[how sweet is he? ;D]
`christinakins;x3OG: haha Vex how did you find out about chatzy?
v3x: i get messeged like everyday about chatzy
v3x: ahaha
kay x3OG: sorry if we bother you lol
v3x: no its ok
`christinakins;x3OG: VEX! LOOK OUT FOR JABBAFAM MEMBERS ON TOUR! LOOK OUT FOR OUR SHIRTS!

v3x: the jabba shirts are cool
rheaaa x3OG: hehhehe :D
v3x: I want one
v3x: I love jabba
v3x: im there biggest fan
[LOL. uhh.. x]]
kay x3OG: hey!
chrystalx3OG: HEHEH WE KNOW YOOH DO VEX! ;] WE SEE YOOH BUSTING OUT THOSE JABBA MOVES! x]
rheaaa x3OG: hahahha x]
Fefa x3OG: hahahhahaha
v3x: haha
kay x3OG: you came to the right chatzy then :D
`christinakins;x3OG: i have to disagree with you on that vex. i think jabbafam are their biggest fans ;] haha
darius x3OG: vex is jabbafam too, so yay! xD
v3x: i can deal with being a close second biggetst fan
kay x3OG: can you speak fluent tagalog?
v3x: I cant speak fluently no
v3x: but i can understand
Thao-Mix3OG: Vex do you like apples?! :D
v3x: I LOVE APPLES
v3x: i want to get a tattoo of an apple
Thao-Mix3OG: YAY ME TOO! HIGH FIVE (:
Fefa x3OG: lmfao
`christinakins;x3OG: LOL
kay x3OG: "BAKIT WHY.I DON'T KNOW.BAKIT WHY.EWAN KO" HAHA that interview was funny
Fefa x3OG: hahaha

v3x: lol
v3x: i just recently saw that
v3x: its a good one
v3x: in about an hour
v3x: I actually have to leave
v3x: i gotta shave and stuff
chrystalx3OG: LOL.
kay x3OG: lmao
v3x: i look kinda grimey right now
rheaaa x3OG: shave ...
chrystalx3OG: hahahhaha
rheaaa x3OG: x]]
chrystalx3OG: NO YOOH DON'T.
chrystalx3OG: YOU'RE TOO PRETTY TO LOOK GRIMEY ;]
v3x: or shiv i mean
v3x: haha thank you
[WHOOOO! :D]
darius x3OG still in shock kinda,
Fefa x3OG: just saying...darius hella love u vex =]
v3x: I love darius too
[hehehhe]
v3x: I love reading all the messages im just sorry that i cant respond to all of them
chrystalx3OG: LOOK OUT FOR JABBAFAMx3OG SHIRTS VEX! ;] we all over the globe ;p
v3x: haha fo sho
[HEHEHE x]]
`christinakins;x3OG: vex knows what the shirts look like right? do you need a reminder? lol

v3x: i seen it
v3x: the jabbas wore it all day
[AHHHHHHH!!! do-knock said the SAME thing! x]]
v3x: they love the shirts btw
v3x: k guys gotta go
v3x: talk to you all later [HEHE. ;D]
v3x: take care
v3x: exercise regularly
v3x: take your vitamins
v3x: and dont forget to wash behind the ears
v3x: byeeeeeeeeee
Vex is so funnnayyyyy ;]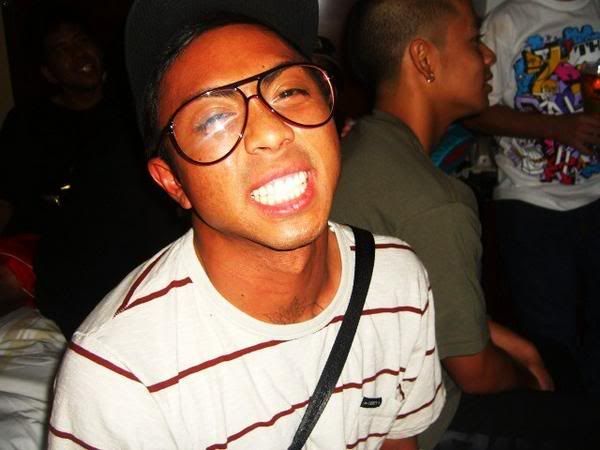 [thanks to darius for pic]